09.05.2016 - Institute Seminar - 13:00, prof. Stan Matwin (ICS PAS and Dalhousie University, Kanada)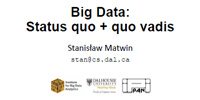 Na wstępie prezentacji zarysuję historię Big Data i jej składowych technologii. Podejmę próbę określenia pojęcia Big Data nieco różnego od klasycznej definicji "4V". Propozycja ta zostanie zilustrowana krótkim przeglądem danych wydających się spełniać wszelkie definicje Big Data, a dotyczących eksploatacji mórz i oceanów. Przedstawię bieżące prace nad metodami analizy tych danych (z naciskiem na metody maszynowego uczenia się ), prowadzone obecnie w Institute for Big Data Analytics, Dalhousie University. Pod koniec prezentacji zarysuję i podam pod dyskusję kilka zagadnień stanowiących – w mojej opinii - zasadnicze wyzwania, zarówno techniczne jak i społeczne, stojące przed Big Data.
Staszek Matwin jest Profesorem oraz "Canada Research Chair" w Faculty of Computer Science, Dalhousie University, Halifaks, Kanada. Dyrektor Institute for Big Data Analytics, pierwszej tego typu placówki naukowej w Kanadzie. Były prezes Canadian Artificial Intelligence Society. Członek Rady Naukowej Polskiego Stowarzyszenia Sztucznej Inteligencjii, od pięciu lat prowadzi konkurs PSSI na najlepszą polską dysertację doktorską z tej dziedziny. Posiada m. in. tytuł ECCAI Fellow. Jego zainteresowania badawcze obejmują tematykę analizy danych tekstowych, eksploracji danych, oraz prywatności danych.
Dalhousie University Halifax, N.S.